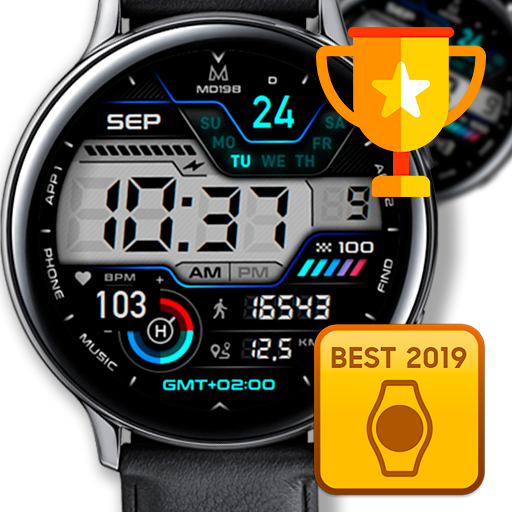 MD198 - New best Premium Digital Top Watch face
What's New
- V.2.0 - Added battery percentage
Description
Check also my home page: https://galaxy.store/matteodini


The MD198 is a Premium Digital Watch Face.

It contains 8 Preset App shortcuts, 2 Customizable shortcuts, Health Data, Date Multilanguage, changeable LCD colors and more..

KEEP IN MIND: for the best results, please clean the cache on the device before install any watchfaces.
Reboot the device keeping hold the home button until "Rebooting..." it appear on screen and release.
Set off the wi-fi connection if unused.

Features:

- 12/24hr Digital Time based on phone settings
- Step Count
- Daily goals bar
- BPM Heart Rate
- Heart rate Interval
- Battery %
- Moved distance in KM or Miles (based on Samsung Health settings)
- 2 Customizable App Shortcuts
- 8 Preset App Shortcuts
- Always ON Display supported on Gear S3, Sport and Galaxy Watch series..

Preset APP Shortcuts (see pictures):

- Calendar
- Samsung Health
- Heart Rate
- Alarms
- Phone
- Music
- Messages
- Find device


Custom App Shortcuts (see pictures):

- DOUBLE TAP on "APP1" and "APP2" to set the custom shortcuts.


CHANGE DAY LANGUAGE (see pictures)

- DOUBLE TAP on the field to change the days language


CHANGE COLORS (see pictures)

- DOUBLE TAP on "GMT" to change LCD COLORS

Check also my home page: https://galaxy.store/matteodini

FB: https://www.facebook.com/matteodiniwatchfaces
Instagram: https://www.instagram.com/mdwatchfaces/

For any question and support, write me an email.

Thank you !
OVERVIEW
Version2.0.2 (2019.12.26)
Size1.11 MB
Age restriction For all ages
ExpirationNo expiration date
data**
Nice addition to the watch. Easy to see all features and is nice that can add two apps
matt**
The best watch face out there !!!
koma**
Custom app buttons dont work. Looks great though.
thad**
I have had many watch faces. This is by far my favorite one!!! Best looking with all the data you need!!
syko**
Great face for my S3. Love the style!
joke**
Love it! This looks amazing on my new 46mm Galaxy Watch! Thank you for creating such a premium watchface.
tony**
Kinda liked the face, but don't like the fact that I must download it after resetting the watch. This is dishonest... when i purchase an app, it should be available in the store under "purchased apps", and not hidden from me. I am assuming this is a Samsung thing.... this is why i will never be loyal to Samsung
adub**
Nice face really like it. Just double tap gmt easy and a lot of colors.
llho**
I love this app!
juli**
Add weather face and we're set
cgho**
Awesome watch face!!! Would of given a 5, but no weather on face