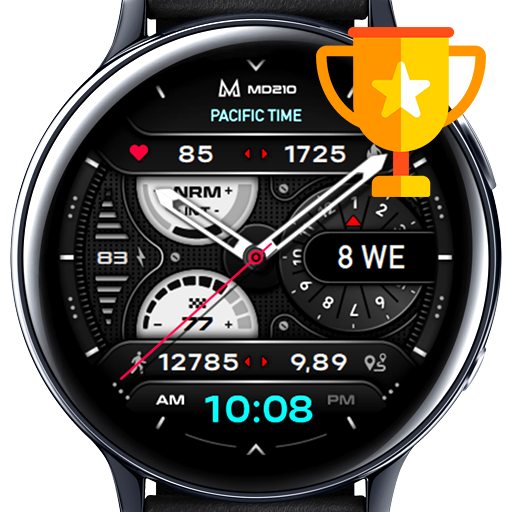 MD210 - Premium Hybrid Watch Face
Description
Check also my home page: https://galaxy.store/matteodini

The MD210 is a Premium Hybrid watch Face.

It contains 3 Preset App shortcuts, 6 Customizable shortcuts, Health Data, Date Multilanguage, changeable bacbkground colors and more..

KEEP IN MIND: for the best results, please clean the cache on the device before install any watchfaces.
Reboot the device keeping hold the home button until "Rebooting..." it appear on screen and release.
Set off the wi-fi connection if unused.

Features:

- 12/24hr Digital Time based on phone settings
- Analog (Hybrid Design)
- Steps
- Calories
- Date + Day + Month
- Time Location
- Moved Distance KM or Miles (based on Samsung Health Settings)
- Daily goals 
- BPM Heart Rate + Interval
- Battery %
- 6 Customizable App Shortcuts
- 3 Preset App Shortcuts
- Always ON Display supported on Gear S3, Sport and Galaxy Watch series.

Preset APP Shortcuts (see pictures):

- Calendar
- Samsung Health
- Heart Rate


Custom App Shortcuts (see pictures):

- DOUBLE TAP on the "THREE DOTS" to set the custom shortcuts.


CHANGE LCD COLORS (see pictures):

- DOUBLE TAP in the middle to change LCD COLORS

CHANGE DIGITAL TIME COLORS (see pictures):

- DOUBLE TAP on the Digital Time to change COLORS.


CHANGE COLORFUL REFLECTIONS (see pictures):

- DOUBLE TAP in the top area to change colors

Check also my home page: https://galaxy.store/matteodini

FB: https://www.facebook.com/matteodiniwatchfaces
Instagram: https://www.instagram.com/mdwatchfaces/

For any question and support, write me an email.

Thank you !
OVERVIEW
Version1.0.6 (2020.01.14)
Size1.59 MB
Age restriction For all ages
ExpirationNo expiration date
leea**
For those wondering about the color of the hands, set your watch to always on display and whatever color you set the digital time to will be the same color as the hands but they only change colors in always on display, they will remain white during regular display. Hope this helps everyone
ingl**
perfecta
alex**
Sweet!
jgor**
Love the face! Could you implement an orange and blue LCD color pattern? Thanks and keep up the great work!
tara**
Super duper watch face! I love the functionality of this face and all the different color schemes you can customize. The best part is, it does not use a lot of battery juice.
jaam**
"190520..thank's..."
mart**
Awesome! Works great! Still confused as what the "NRM" analog dial is though!
idah**
Very cool looking
fark**
Excelente
will**
Nice!
dona**
This is a great watch for a man on the go.It so versatile that you will find it very economical, I would say to try it for yourself and you won't regret your decision.
lake**
Thanks
darn**
Did a wonderful job love the information on the watch face
gs07**
Double tapping the top or bottom will change the colors, but they don't stick if you change the watch face to another one and return to this one.
wrro**
Nice and unique watch face