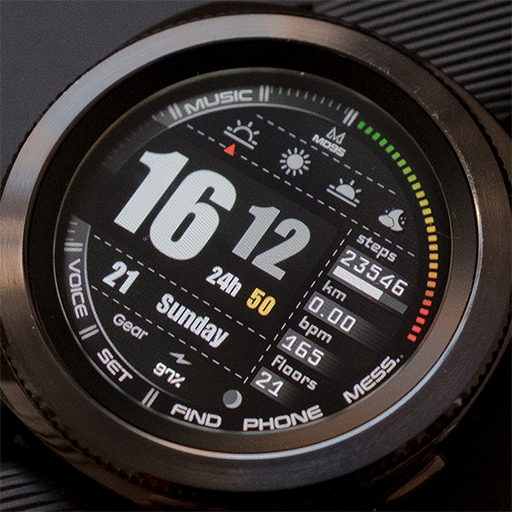 MD95 - Premium Digital Watchface
Description
MD95 is a complete Digital Watchface with Health Data Info, changeable background colors and app shortcuts.

It include 12/24hr Auto Digital Time based on phone settings and Km (or) Miles Moved Distance based on Samsung Health settings.

Features:

- 12/24hr Digital Time Automatic based on phone settings
- Moved Distance in KM or Miles,based on Samsung Health settings
- Step Counts 
- Goal Bar
- BPM Heart Rate
- Floors Count (no Gear S2)
- Always ON Display / Ambient Mode is supported on Gear S2, Gear S3, Gear Sport and Galaxy Watch
- Sweep Seconds
- 24hr Timeline
- Battery Status
- Moon Phase
- 10 APP Shortcuts
- 10 Changeable Background Colors

TAP Screen to open (see pictures):

- Voice Commands
- Music Player
- Settings
- Find the device
- Phone
- Message
- Heart Rate
- Calendar
- Samsung Health
- Set Alarms

TO CHANGE BACKGROUND COLORS:

- DOUBLE TAP ON MINUTE AREA (DOUBLE TAP, see the pictures) to change the backgrodund colors.

For any question, write me an email.

Thank you.

:)
OVERVIEW
Version
1.0.3 (2019.02.14)
Age restriction
For all ages
Expiration
No expiration date
snun**
Looks great and does what it says. Easy to read. As for Lambs post, if you read the info on how to easily change colors.
lamb**
Love it but how to chan6the Colors of the numbers 🤔🤔🤔
anth**
Fantastic!
frod**
My favorite once again! I originally thought the battery guage was off but I was mistaken. I have bad eyes so I can't really read the %
blin**
Would like to know how to get 24hr
irvi**
Has all the features you could want really nice-looking watch face and ease-of-use
s410**
My favorite so far ,lots of functionality good job
jbai**
Love it
deja**
Best watch face and saves battery life. I LOVE it!
bria**
My favorite watch faces so far
afaq**
This is my watch face on my new galaxy watch 46mm. Love it
ablu**
Would be five stars if it had a temperature indicator.
twex**
Great functionality and look!!! Works great s3!