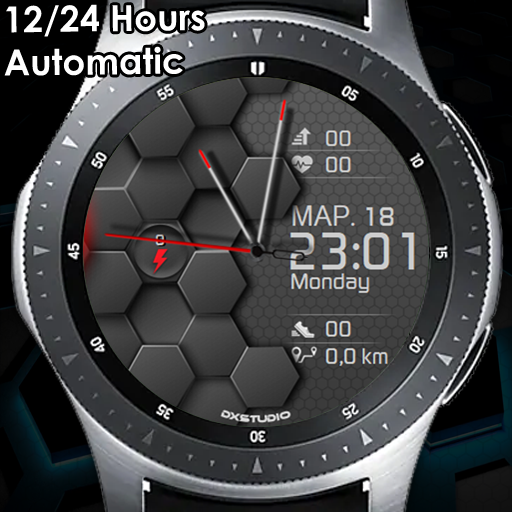 MTH0017 Analogo Digital grey minimal
What's New
Update 2.0.0 (Mar. 28, 2019 

- Fix bug
- Double tap to change the background color right and left


Update 1.0.7 (Jan. 23, 2019)

- Double tap is added in the center to change the background color.


Update 1.0.5 (Dec. 23, 2018)

- Fixe same bug
- Upgrade visual details
- corrected minor bug
- Upgrade for Galaxy Watch


Update 1.0.4 (Dec. 18, 2018)

- Fixe same bug
- Upgrade visual details
- Upgrade for Galaxy Watch


Update 1.0.3 (July 24, 2018)

- visual details were fixed to improve outdoor visibility


Update 1.0.2 (June 02, 2018)

- new shortcuts are added
- redesign of watch face
- several corrections
- optimized for low energy consumption
Description
*************************OFFER ATTENTION********************************************
SEASONAL OFFER, FOR THE PURCHASE OF THIS WATCH FACE, DEMAND FREE 2 WATCH FACE COMPLETELY FREE :)  Send an email to request your gift to: (develperdxs@gmail.com)

************************************************************************************Simple clock with a discreet design with soft tones grey

- 12/24 Hours Automatic
- Multi language (some languages may not be compatible)
- interactive
- low energy consumption
- shortcut steps
- shortcut to date
- shortcut to alarm
- heart rate shortcut
- shortcut to battery status
- shortcut floor (only Gear S3, Gear Sport and Galaxy Watch)
- Screen always on (AOD)
- Not all supported languages

Compatible with Gear S2, Gear S3,Gear Sport and Galax Watch 

For more watch face, visit our store
http://apps.samsung.com/gear/brandPage.as?sellerId=oejxuwuhkh&brandId=0000002204
OVERVIEW
Version
2.0.0 (2019.05.14)
Age restriction
For all ages
Expiration
No expiration date
moha**
Very nice watchface
bigt**
Face is nice. Installed it on Frontier. Format is cool, but not new or unique. The colors are ok, they're flat, no pizzazz. I do like it.
bill**
Like the honeycomb. Not too much on face, enough of the essentials w/o overload. Have you considered color options 4 us to select/change.
tara**
Very nice. If can get update on miles would be great. And also hr and min hands little broader.