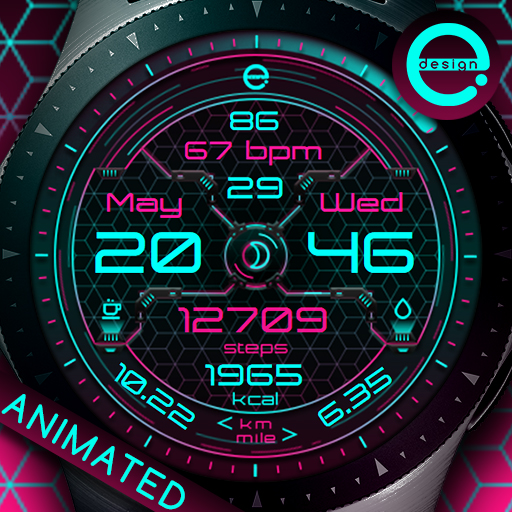 Description
Enkei Design proudly presents our newest digital, highly futuristic and intricately animated watch face: Mercury Toxic - animated!

As you know, at Enkei design we focus on modern design with extremely high attention to detail and style, packing lots of useful features, and providing you with the best possible watch face experience!

Mercury Toxic is a true work of art with its intricate details, stunning futuristic design and gorgeous smooth animations which loop seamlessly!
Not only does it look amazing, it provides a huge range of features and app shortcuts! We made sure you'll have everything you need by providing you with 3 separate custom app shortcuts!
Clean, high-contrast indicators provide perfect visibility anytime, anywhere!

This watch face features a digital clock in both 12 and 24 hour modes, depending on user profile settings!

All related app shortcuts give you access to a lot more in-depth information, only a single tap away!
There are dedicated spots where you can set your own custom app shortcuts*, apart from the existing indicator shortcuts!

* Custom app shortcuts are set by double-tapping the "Enkei Design" logo at the very top of the screen, or "km" and "mile" indicators at the bottom left and right, and simply selecting the app you wish to open every time you single-tap this area in the future. If you ever wish to change to a different app, simply double-tap the area again, and select a different app from the list.


[ IMPORTANT ]
This watch face is compatible with Tizen 4.0 and newer software versions, meaning you can successfully install and use it on Samsung Gear S3, Gear Sport, Galaxy Watch and Galaxy Watch Active device models!


[ PLEASE NOTE ]
This watch face features continuously repeating animations, but that doesn't mean bad battery life on your Gear/Galaxy device!
All of our animations are highly optimized so that there is virtually no additional battery drain - thoroughly tested! 


For any questions, suggestions, complaints or general feedback, feel free to contact us through the provided e-mail.
We prioritize customer satisfaction and take every comment, suggestion, and complaint very seriously, and make sure to respond to every e-mail inquiry within 24 hours.
We also understand there is always some room for improvement, so if you have any suggestions, questions or issues, we urge you to contact us through the provided e-mail where we can do our best to help you any way we can.


Thank you for using our watch faces, have a great day!
OVERVIEW
Version1.1.2 (2020.03.02)
Size1.52 MB
Age restriction For all ages
ExpirationNo expiration date
Seller info
Seller : Enkei Design
Corporate/rep. name : Enkei Design/Aleksandar Eugen Sarkanjac
View details
tlw1**
This watch face is the definition of a modern style digital clock. And I actually like the red/pink hue! Nice to have something different