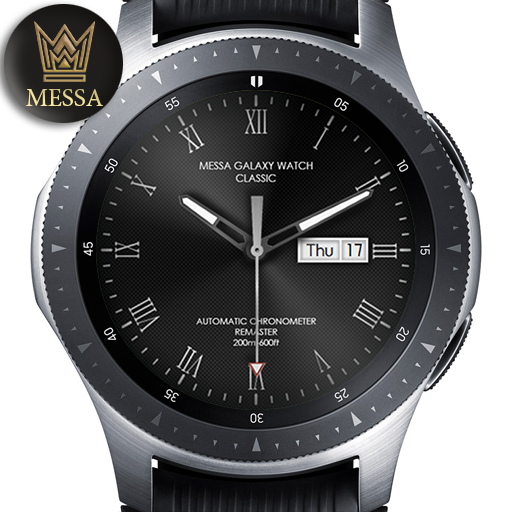 Messa Classic Black Elegance Free Chronometer AOD
Description
Fashionable and stylish classic chronometer dial. Beautiful AOD mode. For the clock Gear S3 / S2 and Galaxy Watch. We have more than 800 quality dials Gear S2, Gear S3 and Galaxy Watch. Every day we load new dials. Follow us.
OVERVIEW
Version
1.0.1 (2019.01.23)
Age restriction
For all ages
Expiration
No expiration date
edwa**
It was common to use IIII to represent four, because IV represented the Roman god Jupiter, whose Latin name, IVPPITER, begins with IV.️ It!
nand**
its nice, but my number 4 should be IV not IIII,,, RIGHT?
ahmm**
My top number 1. The most elegant realist expensive watch feel. Will go with any situation.. very stylish. Thank you so much
glen**
One of my favorites. Classy, both in normal and AOD modes.
marc**
Breathtaking, with great attention to detail, down to watchmakers preferred IIII notation for the 4th hour mark! Nothing but A MASTERPIECE
slap**
Best clean analog watch face I've found so far.
tami**
The sexiest watch face on the market. Hands down. I've owned the watch since before it came out. Only face I've reviewed, only one worth it.
pjaz**
Nice - - Can't fix llll (4) cause it ain't broke;) That is how Roman 4 it's generally displayed on watch faces.
over**
My favorite.
tisc**
Beautiful display. Very classic and works very well with this watch
svas**
Classic automatic diver chronometer, beautiful,
oste**
Very elegant watch face.. My top 3
bo**
IIII is correct for watch faces only. Educate yourself before you spout.
sawk**
Very clean and classic as described. Please fix the number four from IIII to IV
land**
Very classy and clean...just what I was looking for!