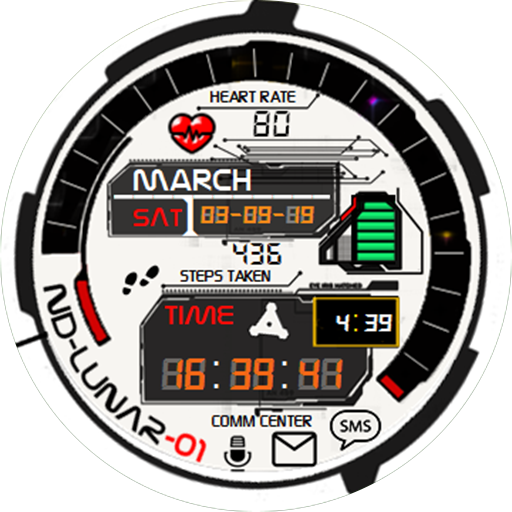 What's New
NOW FREE!
03/03/19 - Added 12hr/24hr Mode- Added shortcut to Steps - Added High Color AOD - Updated Graphics

Name changed from ND-LunarGear to ND-LUNAR-01 due to Samsung droping the Gear name.

If you like it, consider upgrading to LunarGear2 or LunarGear3, soon to be updated to ND-LUNAR-02 & ND-LUNAR-03.
Description
Thank You for looking at ND-Lunar-01! A watch that you would find on a Astronaut or someone cool, like you! The outer bezel rotates and colored stars show up sporadically in the inner ring.  This one's made for the adventurer out there and also the watch enthusiast who wants something different.  ENJOY!

Please be aware that this watch face was created in English, So the full features of the application might not be available in devices that do not support the language the application is being sold in.
OVERVIEW
Version1.0.8 (2019.03.14)
Size1.03 MB
Age restriction For all ages
ExpirationNo expiration date
gate**
Sheer lunacy. Stellar timepiece. Pls make all in 1: Fam in every Mil Branch, Police, Deputy (didn't see 1), and NASA. Thanks 4 free watch
fe3s**
Really like the layout on this watchface. Last right under 2 days on my gear s3 with aod on too!
159b**
So eye catching and visually unique, glad I found this eye candy.
1lor**
Its cool but it drains the battery fast
qazi**
Your solar series has made you my favorite designer period aslong as you keep making solar watch faces i will keep buying them.
jayn**
It's FREE, SWEET!
dcbm**
Absolutely awesome watch face, it is visually stunning!.
jrbh**
Love this one. Can't wait to see if you make a firefighter one. It seems like they are hard to find. Tons of police very few fire.