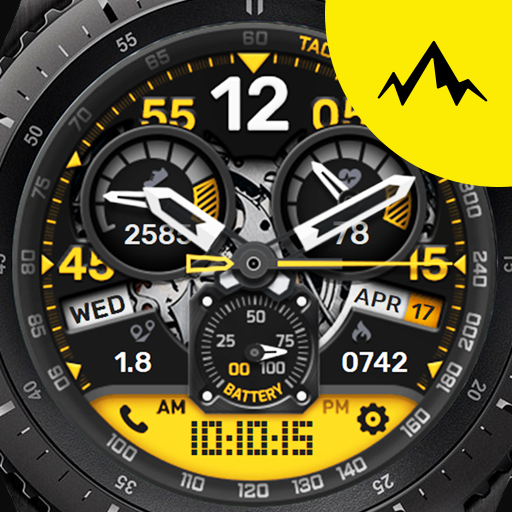 What's New
What's new:
- Leading zero in 12H was removed.
- Added more colors
Description
[TO CHANGE COLORS] (review the images)
A - Background colors / Double tap
B - Complications colors and style / Double tap

[SUPPORT]
Your feedback is important to us. Please contact us before leave a bad feedback. We will respond quickly to solve any problem or suggestion.
support@splugen.net

[FOLLOW US]
Instagram: https://www.instagram.com/splugen_wf
Facebook: https://www.facebook.com/splugen.wf

[MORE WATCH FACES]
https://galaxy.store/Splugen

[FEATURES]
- 12/24 Time format (auto change)
- Day and date
- Background variations X7
- Complications style X2
- App shortcuts X5
- Customizable shortcuts X1
- Digital step counter
- Battery indicator
- Goal step indicator
- Hand movement: Sweep
- Distance (Auto change based on S Health app)
- Calories counter
- Heart rate indicator

[SHORTCUTS] (Review the images)
OVERVIEW
Version
1.4.0 (2019.06.29)
Age restriction
For all ages
Expiration
No expiration date
bobj**
Luv it, Idk why we can't change that blue aod color though that comes on most faces like u can with the FACER app faces.
meco**
Love it! 💪❤
jags**
Love it but anytime you turn your watch off & back on you have to change back to the color(s) you had set-up before. Super annoying
arym**
Nice face! I suggest a zoom feature to remove the tach ring.
dden**
Beautiful design. Nice customizations. Very nice information with great details so you can read and see everything. Awesome. Thank you.
irvi**
Nice watch face very legible colors are great shortcuts are nice as well as low battery consumption great job
dkgs**
Love shortcuts to phone, settings, messages, etc. All apps used regularly are only a tap away. Read description to learn how colors change.
bria**
How the heck do you change the colors?
redm**
Such beauty. This has so many color options and the always on feature color screen is nice.
ms75**
FANTASTIC! Not too cluttered Love all the INFO Love the little dot digital time (minus leading 0). Thank you for FREE! Beautiful
mike**
Really wish you guys would lose your bezel around all of your faces. It makes your faces look much smaller than other designers like HMK.
jdud**
Outstanding. Thanks for updating and removing the leading zero in 12 hour. You are awesome.