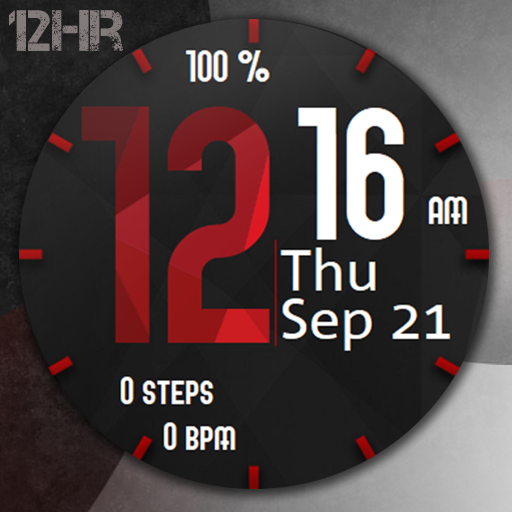 Description
Introducing a beautiful highly detailed material inspired dark red watch face. Care was taken to make sure the face is perfect and similar in all modes on all devices. Clear and very fashionable looking. This is the 12 hour version.

Watch displays battery, date, heart rate, steps taken and time in large easy to read bright font.

Extra features are:
Tap on the Hour to be taken to Alarms
Tap on Minutes to be taken to Settings
Tap on Steps and BPM to be taken to SHealth app
Tap on Date to be taken to Schedule

Thank you and enjoy.
OVERVIEW
Version
1.0.0 (2019.01.30)
Age restriction
For all ages
Expiration
No expiration date
pool**
Like it a lot! Would love it in blue...
irvi**
One of my favorite watch faces I really enjoy the bold look in the color red thank you
bcur**
Really like this one. I've been using it for over 6 months.
chri**
Wish it had an all black background and a solid color hour
bngl**
Another great face.
nola**
Love it. Only wish it showed weather or at least temperature.
tvvo**
I absolutely love the design!! My only problem with this watch face is the AOD is way too dim on my Galaxy Watch. Uninstalled.
jgut**
Love it. Would prefer a 24 hr format though.
tony**
Battery drain. Didn't last a day. Uninstalled it, to bad cause otherwise I like the face.
ralp**
My go to right now. No issue with battery drain. I would love a paid version in a variety of colors.
mc05**
Great look but drained my battery down in 3 hrs.
leeq**
Need to fix the battery drain. The watch is barely lasting a day.
earl**
Best watch face I have found yet.
ragm**
Love it!
fraq**
Me encanta.