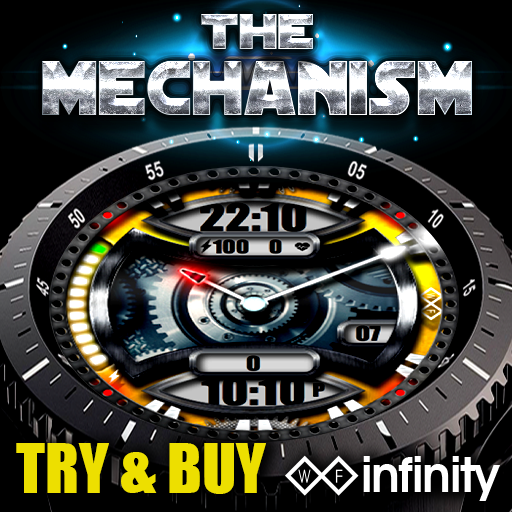 The Mechanism (Try & Buy)
Free
Offers in-app purchases
Description
FREE TO TRY for 3 days before purchase.  Please support your favorite developers so everyone can keep creating awesome watch faces!

Discover The Mechanism! Experience the gyroscope enabled dynamic shadows and highlights that shift with your wrist movement as you watch the animated gears.  TAP the Infinity logo to change FRAME styles, TAP the bottom gear (number 6 area) to change FULL styles, and TAP the center to change LENSES over the gears.

Mechanize yourself with Infinity Watchfaces!

Check out http://infinitywatchfaces.com.  Also follow us on Instagram for the latest images and videos of watch faces in development: https://instagram.com/infinitywatchfaces

Make sure to leave a review for a chance to win a coupon for a free premium watch face!
OVERVIEW
Version
1.0.0 (2019.01.30)
Age restriction
For all ages
Expiration
No expiration date
rwal**
Amazing! Outdid yourself on this one.
d.pu**
Wow, I've downloaded a lot of watch faces but this one blows them all away. You have definitely outdone yourself on this one. Try you'll buy
john**
Awesome watch face, very creative nice looking.
scut**
Awesome watch face
jdud**
Seriously Chris this one is insane. Just absolutely wonderfully beautiful and awesome. A review can't do it justice.
webl**
Wow... Just wow! Love this!!!!