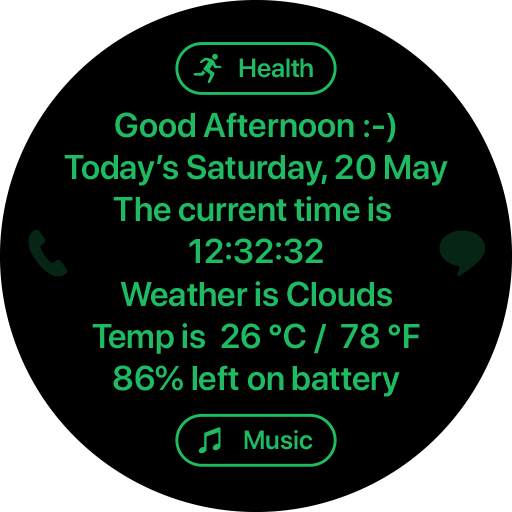 Description
Toby says good morning, afternoon, evening and good night. It is basic to inform the date and time and always informs the weather, temperature and how much battery remains. Available at both 12 / 24 Hours. Available at both ℃ / ℉ Temperature. Applicable to the Gear S3 / Galaxy Watch.

[Function]
- Greetings by each time zone.
- Date (Week, Day, Month)
- Time (12/24h)
- Weather Type 
- Temperature (℃ / ℉)
- Battery (%)
- S-health (Tap)
- Schedule (Tap)
- Alarm (Tap)
- Weather (Tap)
- Music (Tap)
- Phone (Tap)
- Message (Tap)


Contact: b@abstudio.kr
Please send us your valuable feedback.
OVERVIEW
Version2.0.0 (2019.07.29)
Size477.29 KB
Age restriction For all ages
ExpirationNo expiration date
Seller info
Seller : AB Studio Inc.
Corporate/rep. name : AB Studio Inc./배정환
Business license number : 5148194592
View details
jaam**
"230919..thank's..."
jdud**
Really great idea. Lots of information. Easy to read. 5 stars if the leading zero in 12 hour was removed.