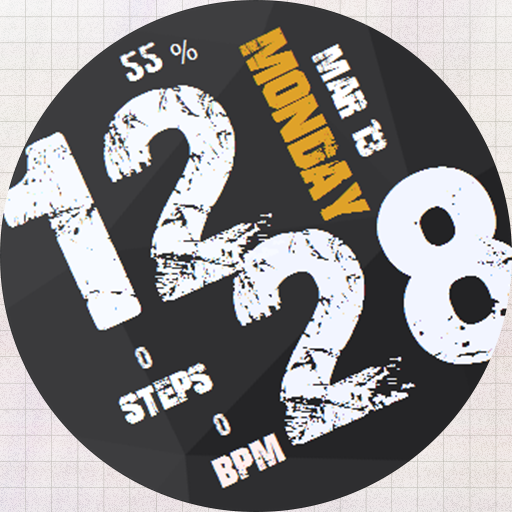 Rugged Worn Black and White
Description
Presenting A Black and White version of the rugged and rough looking digital watch face.

Watch displays battery, date, heart rate, steps taken and time in large easy to read bright font.

Very similar looking always on display on S2 and S3.

Enjoy.
OVERVIEW
Version
1.0.0 (2019.01.30)
Age restriction
For all ages
Expiration
No expiration date
jess**
As with many reviews, need 12hr time
cara**
Where's the 12hr option for this watch face? Love the watch face but im gonna have to delete it....
nevh**
I love the simplicity and layout but needs an option for 12hr time....military time is of no use to me.....will uninstall if no 12hr soon
qwes**
How can I change to 12hr?
mha1**
Love this watch face. Dev of this watch face can you give it option to change between 24hr time to 12hr time. Thanks in advance
lisa**
Looks amazing but I can't figure out how to get regular time. Military time is of no use to me.
emko**
This looks dope. Good job.
ingy**
Love it but have an option to be in 12hr/24hr
lake**
Cool design, just didn't like it was 24hr!!
z_ma**
Big, bold, and easy to read, without being cluttered.
sand**
24 hour military time killed it for this American civilian.
bus3**
Nice and Clean but only 24h would be higher rated if had 12h
andr**
Looks awesome. Just don't use because no 12h option.
lawr**
No military timr
jmac**
Looks cool but I hate that it has no custom options at all