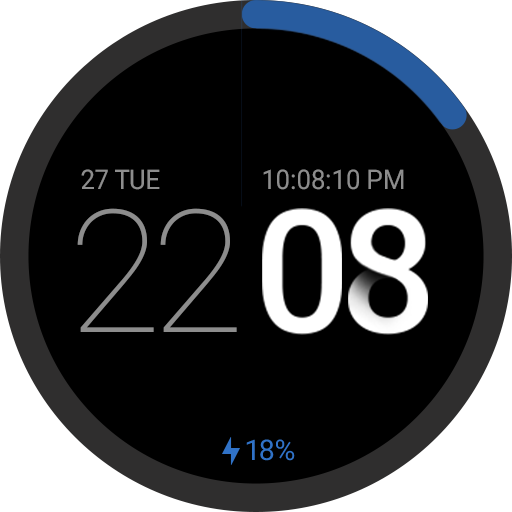 GOLFZON Watch Face - Sporty Ring
What's New
[v1.0.2 Update]
- Change time format to 24-hour 
- Add Battery information : display battery gauge by percent
- Support AOD mode for S3 and S2 devices
Description
Digital Watch Face With Bold Typography
"GOLFZON X trpl Design Studio"
A clean design that's simple and easy to read. A clean design that's simple and easy to read.

Features
 - 12 hour Digital version
 - Weekday, date
 - AM / PM
OVERVIEW
Version
1.0.2 (2019.01.30)
Age restriction
For all ages
Expiration
No expiration date
Seller info
Seller
: Golfzon. CO. LTD
Corporate/rep. name
: Golfzon. CO. LTD/박기원
Business license number
: 1228700053
View details
pete**
Love this watch face! Would greatly appreciate an option to change between to 12 hour, the only reason I didn't give 5 stars.
cono**
Love it , I've been looking for a stylish 24 hour watch
tito**
Add a 12 hour mode..
mjay**
Would really like a 12 hour version or the ability to switch between the two.
digi**
Why no more 12hr ! Should just make 2 types
race**
What happened to the 12 hour mode? Why the forced change?? This was the perfect face until it changed to 24hr.
kreg**
What the hell. Please update a 12 hour mode. Why did you change it to just 24hour?....Weird
nich**
Wish there was a 12hr version. Why did you take it away?
vick**
I really like this watch face but really should bring back the 12 hour version
renz**
I love this face but I hate that it's 24 hour now! Go back to the 12 hour version
musi**
I have to use another watch face now that the main time is 24hr. It doesn't make sense to have a tiny 12 hr time. Choose one or the other.
adam**
Nice design
dani**
Minimalistic and feels special! Really like this one!
coli**
Favorite digital face ever. 24 hour mode would get 5 stars from me.
jaim**
My top watch face ever love it....