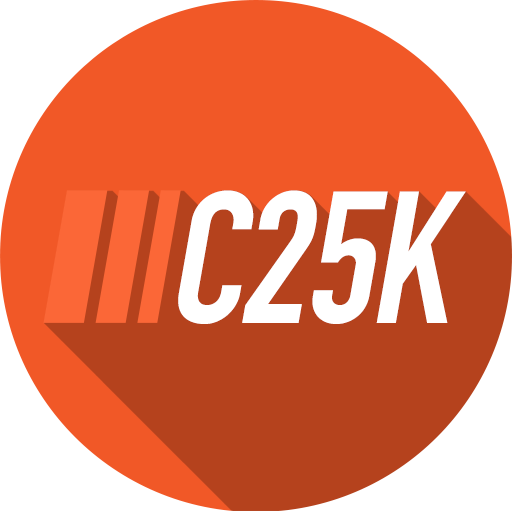 C25K® - 5K Running Trainer
Description
★ The OFFICIAL C25K® (Couch to 5K) program ★
- Official partners with SAMSUNG - this app was developed and optimized uniquely for the Galaxy Watch!
- Millions of success stories!
- Featured on The New York Times, Los Angeles Times, The Washington Post, The Guardian, The Huffington Post, Men's Fitness, Forbes, Mashable, Glamour Magazine, Popsugar Fitness, CBS News, Fox News, Macworld and many more!

"C25K is easy to use, as you would hope for a beginner app." - New York Times

"Daily programs that alternate between short bursts of walking and running until you're ready to go the distance." - Forbes

"One of the highest-rated health and fitness apps... A modest, realistic workout schedule." - Men's Fitness


≈ Real-Life Inspirational Transformations ≈
- Over 100,000 Likes and 1000 Success Photos at http://facebook.com/C25Kfree
- Our community inspires one another (and inspires us!) everyday. Hear some of their amazing stories. 

C25K® is the easiest program to get beginners from couch potatoes to 5K distance runners in 8 weeks.


The proven C25K (Couch to 5K) program was designed for inexperienced runners who are just beginning an exercise routine.The plan's structure prevents new runners from giving up and at the same time challenges them to continue moving forward. C25K works because it starts with a mix of running and walking, gradually building up strength and stamina to fully running 5K. 


≈ Less is More ≈
◎ Simple and intuitive user interface
◎ Easy to learn. Just press start!
◎ Ideal for first-time runners
◎ 30 minutes a day, 3 days a week, 8 weeks total. You will finish your 5K!


≈ Features (COMING SOON!)≈

◉ Your workout stats are pulled directly from your Galaxy Watch and displayed right on the app! (COMING SOON!)
◉ See your calories/distance/heart rate for each workout! (COMING SOON!)


★ Join the community for help, tips, and advice! 
http://www.facebook.com/zenlabsfitness 
http://twitter.com/zenlabsfitness
http://instagram.com/zenlabsfitness

★ The Forums are a great place to ask all your fitness questions!
http://forums.zenlabsfitness.com

★ Read our blog for great health tips!
http://www.zenlabsfitness.com/blog/

Zen Labs is a proud supporter of the National Breast Cancer Coalition. We are passionate about finding a cure for breast cancer and proudly donate to their cause. www.breastcancerdeadline2020.org

Our community is our number one priority. We answer each and every email. Most of our updates have been suggestions from our community. Questions? Comments? Suggestions? See why our community has made us the #1 5K training app. contactus@zenlabsfitness.com


Legal Disclaimer 

This app and any information given by it or by Zen Labs LLC are for educational purposes only. They are not intended nor implied to be a substitute for professional medical advice. You should always consult your healthcare provider before beginning any fitness program. 


C25K® is a registered trademark of Zen Labs LLC
OVERVIEW
Version1.1.0 (2019.09.13)
Size1.1 MB
Age restriction For all ages
ExpirationNo expiration date
Seller info
Seller : Zen Labs Fitness
Corporate/rep. name : Zen Labs Fitness/Bradley Duong
View details
tami**
I WAS ABLE TO USE ONCE AND NOW IT WON'T DO ANYTHING. Won't even let me uninstall to see if I can get it back working 🤔🤔😠 disappointed
matt**
Used to be fine. Now it's unusable--crashes every time it is calibrating and won't let me uninstall.
42rp**
Why not just add actual voice cues
holl**
I really want to uninstall this. Why can't I?
bigg**
Sucks!!!!! Can't uninstall
pell**
Won't uninstall.
bobb**
Won't uninstall. Not working
tbri**
WON'T UNINSTALL...and it stops working after a while so you will want to uninstall. Just skip it!
alic**
Worked for 10 mins then shuts itself down.
darh**
Works for me except the sound doesn't work at all through my headphones. It just vibrates and that's it so I have to look at my watch
theb**
Stopped working after like 2 days. Just keeps saying cannot connect. Will be deleting.
stev**
The app will count down to 2 seconds left in the cool down, then freeze. When the OS updates it has to be reinstalled to work.
kend**
*BEWARE! YOU CANNOT UNINSTALL*
auro**
Wont let me update it or uninstall it 🤨
skel**
Can't uninstall!!! Emailed support with detailed description of what i tried when uninstalling. They wanted a video of what i was doing.