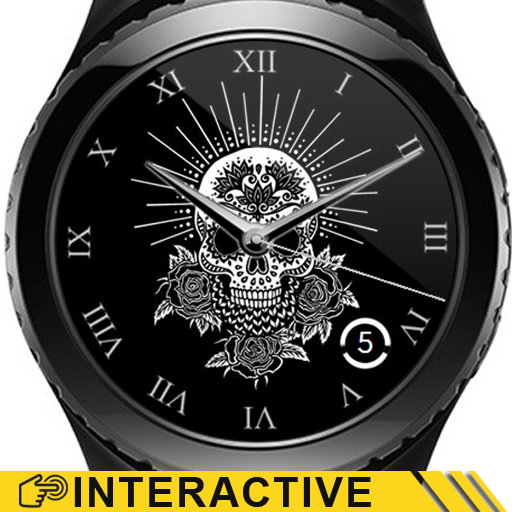 Description
Skull Watch Face for Gear S2 and Gear S3!

Skull Wear Watch Face fascinates & frightens. It makes your watch look cooler.

This skull watch shows the basics of what a watch should display : hour & day.


## Installation

This watch face will be installed automatically from your phone paired.

Once installed, you can select the watch face from  a long tap on the current watch face screen : watch face selector screen will open.


** If you have any issues or questions, fill free to contact me by email (English or French language) before giving a bad rating. Thanks!

Website: http://www.themaapps.com/
Youtube: https://youtube.com/ThomasHemetri
Twitter: https://twitter.com/ThomasHemetri
G+: https://plus.google.com/+ThomasHemetri
OVERVIEW
Version1.0.0 (2018.08.23)
Size1.25 MB
Age restriction For all ages
ExpirationNo expiration date
rayb**
Nice watch faces
dtor**
Very cool designs! Great job
bg14**
Great faces
jcf3**
Very cool designs!
vcr3**
Absolutely love the images,the only complaint is images can change with just a tap. Placing my palm to turn screen off changes the image :(
sall**
Ok I have waited a week now and I am still getting try again later. This really sucks
abg.**
Sick! The only way it can get better is different "always on mode" options, or more face options. Amazing job, guys! Worth every penny!
jupi**
Works perfect and is completely awesome!
spic**
Beautiful watch face. I'm in love
rale**
Very nice selection. Shows the date, which is very desirable. But no function for battery life.
rnca**
Absolutely fantastic! If I could make a suggestion for feature improvement, it's a function that changes the faces automatically -TY
jaso**
Not sure how to switch between faces. Please help.
momm**
I have been looking for a skull watch face and finally I find exactly what I'm looking for!! I absolutely love the different faces!!