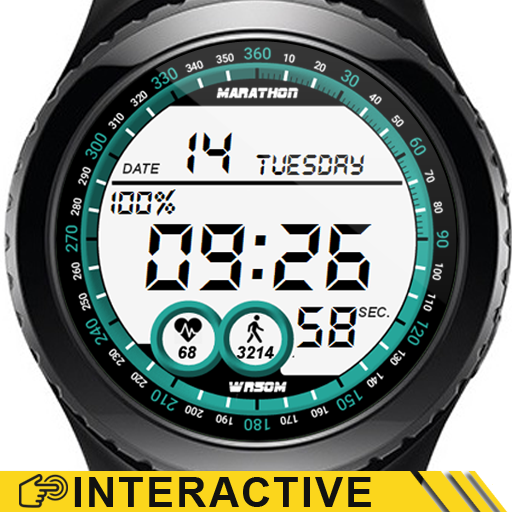 Description
Digital One Watch Face for Gear S2 and Gear S3!

Features of Digital One Watch Face :
- Choose design colors
- Date & Day
- Watch battery
- Daily step count
- Heartbeat frequency


## Interactivity of watch face

- By touching the middle of the screen, you can change the color
- By touching a dial or the battery, you can display detailed data
- By touching the date, you can display the calendar


## Installation

This watch face will be installed automatically from your phone paired.

Once installed, you can select the watch face from  a long tap on the current watch face screen : watch face selector screen will open.


** If you have any issues or questions, fill free to contact me by email (English or French language) before giving a bad rating. Thanks!

Website: http://www.themaapps.com/
Youtube: https://youtube.com/ThomasHemetri
Twitter: https://twitter.com/ThomasHemetri
G+: https://plus.google.com/+ThomasHemetri
OVERVIEW
Version1.0.0 (2018.08.23)
Size1.31 MB
Age restriction For all ages
ExpirationNo expiration date
stea**
Loved this on Android Wear but don't care as much for this on my S3. The features aren't there not to mention few options to customize color
shlo**
Suits my needs just fine. I've lived with the 24 hr clock most of my life, I like this display.
loby**
I would not have purchased this if I knew it operated in 24 hour time. I'm requesting a refund, unless you can provide a 12 hour option.
davi**
Nice that you make the display think your getting 12hour not 24. Thank you. Would like a refund. Heres my email. Davidrcorwin@gmail.com.
ccab**
I don't like the 24 hr, I would NOT have purchased if I had known!
ben_**
Love the look & color opt. Itd be great if you added stopwatch & timer options as an alternate to the HR & step counter. -Personal Trainer-
lb1l**
Really like it cant wait for 12 hour version thanks
matt**
No indication this is 24 hr not 12. Waiting on coupon for 12hr version