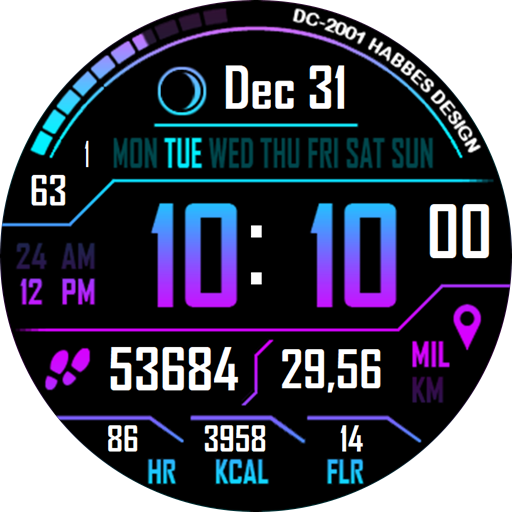 Description
Beautiful Digital Watchface with 35 different colors.

Automatic 12/24 Hours and Km/Miles based on your System Settings.

Description see Pictures!

Please visit my website for more Watchfaces:
http://www.habbes.eu

Follow me on Twitter:
https://twitter.com/IWD_Design

enjoy...
OVERVIEW
Version1.0.0 (2020.01.23)
Size653.14 KB
Age restriction For all ages
ExpirationNo expiration date
dena**
I love this watch face. I wish there was a way to deactivate shortcuts and keep it on the slected color. It would help with battery life
devo**
To change color double tap description top right of watch where it sais DC-2001 that cycles the colors love the options great design
4pro**
If i tap the wrong spot it activates find my phone. Can I disable that spot. I love everything else about this watch face
sevo**
I would love this, except it keeps changing the color back to white on its own. Otherwise it's great. Sadly a near miss.
chut**
How do I change colors, it's only showing up on my watch in black and white!!!😬
acri**
Thank you for the great watchface. Ability to add customizable shortcuts would make this perfect.
dudj**
FINALLY - I found "The" One that has all the options and colors that I want. I've tried hundreds, and it's even free!
lfsv**
Love this! I can swap face colors to match when I change out my bands!