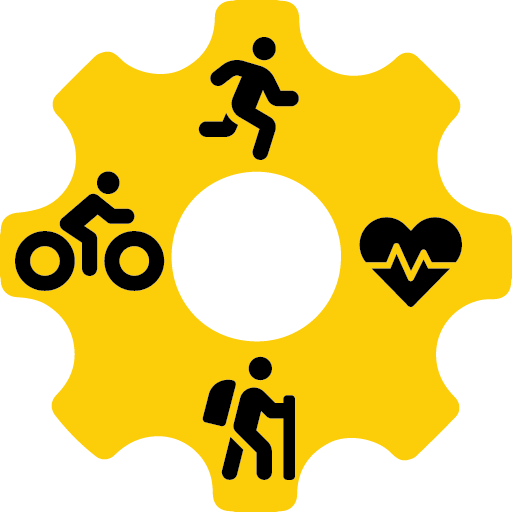 Gear Tracker
$8.99
Offers in-app purchases
What's New
*** 4.6.5 ***
• Updated some incorrect translations
• Fixed issues with non GPS (Indoor) activities not starting with location off
• Fixed background processing accuracy on indoor activities
• Modified Premium 'Precision' option from 3 to 2 numbers and always at 10ms
• Fixed subscription timeout error
• Other minor tweaks

*** 4.6.2 ***
• Added Premium subscription option. Have a look here for new Premium options: https://limegreenv.com/wiki/gt/#!Home/Premium.md
• Added new Links feature. In addition to Strava and Email export GT now supports direct upload to the following with Premium :
  •  Final Surge
  •  Relive
  •  Runalyze
  •  SmashRun
  •  Training Peaks
• Added languages:
  • Italian
  • Swedish
• 'Workout' no longer uses pedometer
• Target conversion bug fixes
• Fixes for Zone Alerts when Pace/Speed in Miles
• Log list updates to support multiple upload links
• Added Multi Sport transitions
• Added ms precision option for duration (Premium Only)
• Added new UI circle and list selectors (Premium Only)
• Improved TCX processing and compliance.
• Added 'Purple' theme, changed LCD theme to 'Bright'
• Added email option for Link connect when 'Launch on Phone' does not work. (iPhone users)
• Added new icons for 'Indoor Run' and 'Spinning'.
• Performance Improvements
• Logic Improvements
• Bug Fixes
• Too many others to mention

*** 4.3.0 ***
• Fixed some measure titles not displaying correctly.

*** 4.2.9 ***
• Updated core libraries
• Improved One UI look
• Improved UI formatting
• Implemented some marquees
• Implemented 'Soft Buttons', this means you can use the on screen icons as well as the top hardware button for actions like Start/Pause/Resume/Cancel dialog etc. Anywhere an icon is shown next the the top button. 
• Added Popup duration setting for Laps, Splits and Alerts
• Added Danish language
• Fixes
  • Targets now include pauses
  • Fixed Strava calorie upload
  • Remove screen tap on layout to toggle titles as icons/text. This was testing feature so has been removed.
  • Fixed bug corrupting profiles and activities when using the 'Remove' profile option
  • Other minor improvements

*** 4.2.3 ***
• Zones feature redesign
   • Set Pace/Speed/Heart Rate and Power zones
• Added new Alerts feature
   • Set Split Alerts
   • Set Pace, Speed, Heart Rate or Power Zone Alerts
• Improved button response after screen comes on (for Manual Laps & Pause)
• Layout modifications
   • Measure titles can be Icons or Text
   • New Clean theme (Maksym)
• Updated some settings with Icons
• Added Strava upload options (Promo & Stats)
• Cycle Speed & Cadence sensor bug fixes
• General UI improvements and updates
• Profile additions (duplicate, rename, remove) - customise your activity profile for different scenarios
• Major log file improvements. Note: previous logs may not be fully compatible with this version.
• Pause during manual laps with double press (if double press is enabled)
• Many more updates and fixes

*** 3.9.8 ***
• Added new Targets feature
   • Estimated finish times
   • Set your goals
   • Track your progress
• Configurable Layout improvements
   • Multiple Sections on pause screen
   • Add/remove sections
   • Add templates
   • Set home screen
   • Loading improvements
   • Layout custom names
• HR and Power Zone Charts
• Layout cycle option
• Additional screen held on options
• Log auto delete and retention options
• Real-time cadence with screen on
• Double press indicator
• Improved Instant Pace calculation
• Improved background log writing, reliability and recovery
• Performance improvements
• Bug fixes
Description
Please like and follow my Facebook page to send and receive feedback, updates and info on the progress and planned features of Gear Tracker: https://www.facebook.com/GearTrackerApp/

As a runner I struggled with some of the inaccuracy on the current Gear S/Galaxy Watch tracking apps, so I wrote my own.
My goal was to write a simple standalone GPS tracking app with some basic reliable stats while running, and allow me to directly upload my runs to Strava for detailed analysis. Alternatively you can use a third party sync service to sync your Strava activities to other platforms. Gear Tracker now also has an Email TCX option to manually export your activities.

Please check out my help page for more info here: https://limegreenv.com/wiki/gt

This is an ongoing project, and I will be adding features based on my own requirements and feedback from users.


** NOTE: **
GT now includes an optional Premium subscription for new and advanced features. Have a look here for new Premium options: https://limegreenv.com/wiki/gt/#!Home/Premium.md

 Supported Languages:
  • Arabic
  • Czech
  • Danish
  • Dutch
  • English
  • French
  • German
  • Greek
  • Hungarian
  • Italian
  • Polish
  • Portuguese
  • Spanish
  • Swedish


Current Features:
 • Track Runs, Rides, Walks, Workouts, Outdoor Swims and Multi-Sport
 • Bluetooth (BLE) - Heart Rate Chest Strap Support
 • Bluetooth (BLE) - Run Speed & Cadence Sensors
 • Bluetooth (BLE) - Cycle Speed & Cadence Sensors
 • Bluetooth (BLE) - Power Sensors
 • Configurable Sources (GPS, HR, Distance, Speed, Cadence and Power)
 • Customisation of Activity Profiles
 • Multiple Configurable Screen Layouts (Tracking, View Log, Pause Popup and Lap Popup)
 • Zones % charts (Heart Rate, Speed/Pace or Power)
 • Set Targets and track your progress (Distance, Time, Pace & Speed)
 • Set Zone Alerts and track Heart Rate, Speed/Pace or Power
 • Set Split Alerts and track your progress over distance or time
 • Charts in Configurable screens
 • Breadcrumb Map in Configurable screens
 • Selectable Screen Themes
 • Selectable Measure Styles for max, avg and min values
 • Indoor Mode - GPS Off (for Runs and Walks only)
 • Indoor Run - Distance calibration
 • GPS status screen with Stand Alone and Tethered GPS mode indicator
 • Configurable logging intervals from 1 to 11 seconds. Choose your preferred level of detail. Ideal for faster sports like riding and mountain biking where more detail is needed.
 • Track distance in Miles/Kilometers, elevation in Meters/ft
 • Multiple Intervals/Laps with notifications (TCX upload with laps)
   • Splits
   • Go/Rest
   • Pyramid
   • Custom
 • Configurable Feedback (None, Vibrate, Sound (Beeps), Both)
 • Pause Modes (Race, Manual, Auto (see below))
 • Auto Pause, Only with good GPS coverage.
 • Screen Modes (Watch Default, Held On)
 • Stats:
   • Avg Pace min/(km/mi)
   • Avg Speed (km/mi)
   • Current Pace min/(km/mi)
   • Current Speed (kph/mph)
   • Instant Pace min/(km/mi), taken from a small set of recent data points to smooth result.
   • Instant Speed (kph/mph), taken from a small set of recent data points to smooth result.
   • Distance (km/mi)
   • Duration (hh:mm:ss)
   • Speed (km/mi) 
   • Heart Rate (bpm, min, max, avg)
   • Altitude/Elevation (+, -, max, min, absolute, zero+-)
   • Cadence (SPM, Runs and Walks only)
   • Total Steps (Runs and Walks only)
   • Calories (PED), from Pedometer (Runs and Walks only)
   • Calories (HR), from User Settings and Heart Rate calculation
   • Battery Level %
   • Battery Usage %
   • Battery Est Usage/hour %
   • Lots, Lots More....

 • Tracking Logs
   • Strava + Many other upload link options, see images. (TCX with laps)
     • Auto upload option
     • Secure token exchange
     • No stored usernames or passwords
     • Configurable upload
      • Watch/Strava Moving Time
      • Watch/Link Distance
      • Watch/Link Elevation
      • Many More Options...
    • Ability to email log as TCX
    • log retention option to auto clean up logs
 
• User Feedback Requests: If there's a feature you'd like to see please send an email to geartracker@limegreenv.com or visit my Facebook page at https://www.facebook.com/GearTrackerApp/
OVERVIEW
Version4.6.5 (2020.06.23)
Size2.28 MB
Age restriction 16+
ExpirationNo expiration date
aust**
Keeps crashing during my runs. Even in airplane mode and after restarting watch. There is a thorough FAQ that mentions this is caused by buggy Samsung software and will hopefully be fixed later this year. Would be nice if there was a way to discard a run after pausing it instead of having to save it and then go into logs to delete. Also, the auto-pause feature is very flaky. Constantly pauses in the middle of my run, but it's not that difficult to just pause manually. The customizability is fantastic. I love that I can make profiles for different types of workouts which improves usability and makes it very simple to start a workout. Please don't push the product towards a simpler interface, the configurations are extremely useful. The slight differences in data between Strava and Gear Tracker is not ideal but manageable.
texa**
Doesn't install to my watch, have to constantly keep installing it's a headache
cycl**
After playing with the trial version and figuring it out after a few missguided steps. It did what I was hoping for. So I purchased this and it uploaded to strava with no issues. The strava app always struggled with heart rate. This one seems perfect for the heart rate. The app blows away the strava app by leaps and bounds! Well worth the money.
lela**
I've been using this app for a few months and it usually works well. The most recent update have caused the app to crash whenever I try to start an activity while connected to my note 10. I have to put my active 2 in airplane mode to prevent crashing. Hoping this is fixed soon, still a great app which makes my watch feel more capable than it did with Samsung health. Edit: also not a fan of having to use Facebook for support, I don't have or want to have an account but I suppose if I want to report bugs I will have to sign up. Edit2: reinstalled the app to troubleshoot and it appears the issue has been resolved. Updated review to 5 stars. If you've got issues try reinstalling.
kamb**
Just shuts down cant even link it to anything
kcwi**
This app was great until a month or so ago when it just closes as soon as it opens on my Galaxy Active Watch. It's pretty much useless now. I've uninstalled and reinstalled, updated, restarted watch, everything.
patr**
Every time I open one of the options (zone, profile, etc) I just get a blank black page. I wish it didn't do that because it's a waste of time to sit and wait to see if it'll load.
lema**
Tracks accurately every time. VERY customizable. Links easily to external sensors. Uploads directly to Strava accurately, unlike S-Health.