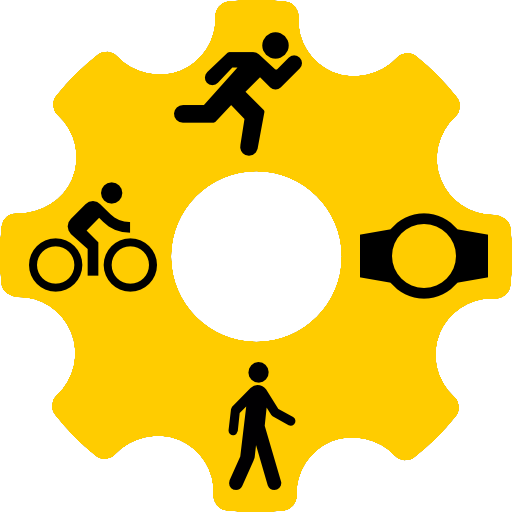 What's New
*** 4.3.0 ***
• Fixed some measure titles not displaying correctly.

*** 4.2.9 ***
• Updated core libraries
• Improved One UI look
• Improved UI formatting
• Implemented some marquees
• Implemented 'Soft Buttons', this means you can use the on screen icons as well as the top hardware button for actions like Start/Pause/Resume/Cancel dialog etc. Anywhere an icon is shown next the the top button. 
• Added Popup duration setting for Laps, Splits and Alerts
• Added Danish language
• Fixes
  • Targets now include pauses
  • Fixed Strava calorie upload
  • Remove screen tap on layout to toggle titles as icons/text. This was testing feature so has been removed.
  • Fixed bug corrupting profiles and activities when using the 'Remove' profile option
  • Other minor improvements

*** 4.2.3 ***
• Zones feature redesign
   • Set Pace/Speed/Heart Rate and Power zones
• Added new Alerts feature
   • Set Split Alerts
   • Set Pace, Speed, Heart Rate or Power Zone Alerts
• Improved button response after screen comes on (for Manual Laps & Pause)
• Layout modifications
   • Measure titles can be Icons or Text
   • New Clean theme (Maksym)
• Updated some settings with Icons
• Added Strava upload options (Promo & Stats)
• Cycle Speed & Cadence sensor bug fixes
• General UI improvements and updates
• Profile additions (duplicate, rename, remove) - customise your activity profile for different scenarios
• Major log file improvements. Note: previous logs may not be fully compatible with this version.
• Pause during manual laps with double press (if double press is enabled)
• Many more updates and fixes

*** 3.9.8 ***
• Added new Targets feature
   • Estimated finish times
   • Set your goals
   • Track your progress
• Configurable Layout improvements
   • Multiple Sections on pause screen
   • Add/remove sections
   • Add templates
   • Set home screen
   • Loading improvements
   • Layout custom names
• HR and Power Zone Charts
• Layout cycle option
• Additional screen held on options
• Log auto delete and retention options
• Real-time cadence with screen on
• Double press indicator
• Improved Instant Pace calculation
• Improved background log writing, reliability and recovery
• Performance improvements
• Bug fixes

*** 3.7.7 ***
• Added support for Bluetooth(BLE) Devices
  • Run Speed & Cadence Sensors (Stryd™, Milestone™ etc.)
  • Cycle Speed & Cadence Sensors (Wahoo™, Garmin™ etc.)
  • Power Sensors (Stryd™ etc.)
  • Added BLE Device calibration, where appropriate
• Improved support for BLE HR Sensors. 
• Added a custom service (GT Service) for supplying alternative data sources
  • GPS
  • HR
• Added support for configurable Sources in profiles
  • GPS = Default or GT Service
  • HR = Watch, GT Service or BLE HR Devices
  • Distance = GPS. Pedometer or BLE Speed Device
  • Speed = GPS. Pedometer or BLE Speed Device
  • Power = None or BLE Power Device
• Add Pedometer calibration by %
• Added basic support for Multi-sport profiles
• Added support for new Languages:
  • Hungarian
  • Czech
• Added configurable 'Finish Prompt' option to prompt (Ask) when finishing activity
• Improved 'Double Press' to 'Finish' function (Settings->Advanced)
• TCX export improvements.
• Layouts
  • Added Media controls (Play/Stop, Next, Previous)
  • General Measure updates
• UI updates and improvements
  • Updated icons
  • Added Help menus
  • Bug fixes
• General bug fixes and improvements
Description
Please like and follow my Facebook page to send and receive feedback, updates and info on the progress and planned features of Gear Tracker: https://www.facebook.com/GearTrackerApp/

As a runner I struggled with some of the inaccuracy on the current Gear S/Galaxy Watch tracking apps, so I wrote my own.
My goal was to write a simple standalone GPS tracking app with some basic reliable stats while running, and allow me to directly upload my runs to Strava for detailed analysis. Alternatively you can use a third party sync service to sync your Strava activities to other platforms. Gear Tracker now also has an Email TCX option to manually export your activities.

Please check out my help page for more info here: https://limegreenv.com/wiki/gt

This is an ongoing project, and I will be adding features based on my own requirements and feedback from users.

 Supported Languages:
  • Arabic
  • Czech
  • Danish
  • Dutch
  • English
  • French
  • German
  • Greek
  • Hungarian
  • Polish
  • Portuguese
  • Spanish

Current Features:
 • Track Runs, Rides, Walks, Workouts, Outdoor Swims and Multi-Sport
 • Bluetooth (BLE) - Heart Rate Chest Strap Support
 • Bluetooth (BLE) - Run Speed & Cadence Sensors
 • Bluetooth (BLE) - Cycle Speed & Cadence Sensors
 • Bluetooth (BLE) - Power Sensors
 • Configurable Sources (GPS, HR, Distance, Speed, Cadence and Power)
 • Customisation of Activity Profiles
 • Multiple Configurable Screen Layouts (Tracking, View Log, Pause Popup and Lap Popup)
 • Zones % charts (Heart Rate, Speed/Pace or Power)
 • Set Targets and track your progress (Distance, Time, Pace & Speed)
 • Set Zone Alerts and track Heart Rate, Speed/Pace or Power
 • Set Split Alerts and track your progress over distance or time
 • Charts in Configurable screens
 • Breadcrumb Map in Configurable screens
 • Selectable Screen Themes
 • Selectable Measure Styles for max, avg and min values
 • Indoor Mode - GPS Off (for Runs and Walks only)
 • Indoor Run - Distance calibration
 • GPS status screen with Stand Alone and Tethered GPS mode indicator
 • Configurable logging intervals from 1 to 11 seconds. Choose your preferred level of detail. Ideal for faster sports like riding and mountain biking where more detail is needed.
 • Track distance in Miles/Kilometers, elevation in Meters/ft
 • Multiple Intervals/Laps with notifications (TCX upload with laps)
   • Splits
   • Go/Rest
   • Pyramid
   • Custom
 • Configurable Feedback (None, Vibrate, Sound (Beeps), Both)
 • Pause Modes (Race, Manual, Auto (see below))
 • Auto Pause, Only with good GPS coverage.
 • Screen Modes (Watch Default, Held On)
 • Stats:
   • Avg Pace min/(km/mi)
   • Avg Speed (km/mi)
   • Current Pace min/(km/mi)
   • Current Speed (kph/mph)
   • Instant Pace min/(km/mi), taken from a small set of recent data points to smooth result.
   • Instant Speed (kph/mph), taken from a small set of recent data points to smooth result.
   • Distance (km/mi)
   • Duration (hh:mm:ss)
   • Speed (km/mi) 
   • Heart Rate (bpm, min, max, avg)
   • Altitude/Elevation (+, -, max, min, absolute, zero+-)
   • Cadence (SPM, Runs and Walks only)
   • Total Steps (Runs and Walks only)
   • Calories (PED), from Pedometer (Runs and Walks only)
   • Calories (HR), from User Settings and Heart Rate calculation
   • Battery Level %
   • Battery Usage %
   • Battery Est Usage/hour %
   • Lots, Lots More....

 • Tracking Logs
   • Strava Upload (TCX with laps)
     • Auto upload option
     • Secure token exchange
     • No stored usernames or passwords
     • Configurable upload
      • Watch/Strava Moving Time
      • Watch/Strava Distance
      • Watch/Strava Elevation
      • Many More Options...
    • Ability to email log as TCX
    • Delete all logs option (only shows after 5 logs)
 
• User Feedback Requests: If there's a feature you'd like to see please send an email to geartracker@limegreenv.com or visit my Facebook page at https://www.facebook.com/GearTrackerApp/
OVERVIEW
Version4.3.0 (2020.05.29)
Size2.07 MB
Age restriction 16+
ExpirationNo expiration date
dred**
This APP shucks glitches out hard to use😡
jim.**
Best running app and developer is so on the ball. Always there to help with questions. Biggest downside is usually glitchy Samsung device
cruz**
Great
liv.**
I had a hard time navigating the app on my watch. Likely what I wanted it to do wasn't there. Wish there was a phone companion app. Uninstalled
gran**
Love it. Best app for galaxy watch hands down. I love it especially for the interval tracking.
y**
This app was the missing link to turn my Galaxy Watch into the ultimate running companion. It even supports bluetooth chest strap heart rate sensors, auto-syncs with Strava, and more! Why pay $700 for a Garmin watch when you can simply add this app to your Galaxy watch?
has2**
I got this app for its split times, as in being notified every minute with heart rate and all the good stuff. It doesnt do it. Either I have to keep the face watch always on or it wont work, but some how it keeps perfect track of time. Please help! Or fix it!
roos**
Thorough and feature packed
chul**
Finally, a quality tracking app for a Galaxy watch. This app does everything you need, seems very accurate, and the developer is incredibly responsive when you have questions/issues. I was considering getting with a different watch, but now I don't have to! I love this app!