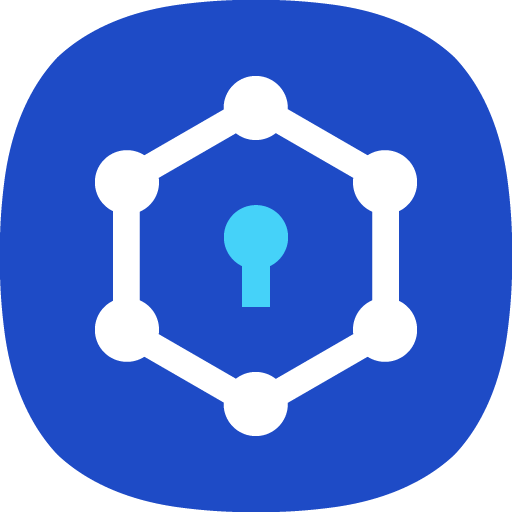 Samsung Blockchain Wallet
What's New
[1.2.07.46]
Minor bug fixed

[1.2.07.45]
1. Search Function
- Added search function in coin/token list, DApp list
2. Enter amount in Fiat when creating cryptocurrency transaction
- Support automatic conversion from Fiat to cryptocurrency based on up-to-date market price
3. Estimated Total Balance bug fix
- Fixed issue with wrong calculation of Estimated Total Balance in certain conditions
4. Exchange Integration (US, Canada only)
- Deposit and withdraw cryptocurrency to supported exchange easily within Samsung Blockchain Wallet
Description
Manage your cryptocurrency more securely with Samsung Blockchain Wallet!
 Samsung Blockchain Wallet is a non-custodial cryptocurrency wallet service that allows you to send cryptocurrency to others and enjoy recommended DApps. Samsung Blockchain Wallet enables you to securely sign and authorize cryptocurrency transactions using your cryptocurrency private key, which is saved in a secure area built in to your Samsung Galaxy device.
 Samsung Blockchain Wallet provides the following features:
▪ Cryptocurrency account management
 - Create a new private key for each of your cryptocurrency accounts
 - Restore your cryptocurrency accounts and transaction history for each account by importing your private key
 - Bitcoin (BTC), Ethereum (ETH), ERC tokens, Tron (TRX), TRC tokens are supported. Additional coins and tokens will be added in the future.
▪ Send and receive your cryptoassets
 - You can save frequently used cryptocurrency addresses to your address book and use them to easily send your cryptocurrency.
 - All your cryptocurrency transaction requests are operated on a separate Secure OS separate from the normal OS. This keeps your information safe from hacking and data leakage.
▪ Explore recommended DApps (Decentralized Apps based on blockchain technology)
 - Browse and use popular DApps in a variety of categories, including games, social media, and more
 - You can purchase content with ERC tokens, TRX, TRC tokens in DApps
 - You can view all collectibles in a single page, and also send/receive collectibles


 * Partnerships
 - You can get APIs for integrating with your service and apply for partnership in the Samsung Developers Site. Please refer to this link : https://developer.samsung.com/blockchain
 - Partner DApps are exposed to Samsung Blockchain Wallet's DApp lists.

 * App permissions
The following permissions are required for the app service. For optional permissions, the default function is available, but not allowed.

 [Required permissions]
 - Phone: Used to confirm unique identification information when you first set up the service
 [Optional permissions]
 - Camera: Used to take photos of QR codes when sending coins/tokens to others
Permissions required
The following permissions are required to use this app.
Telephonemake and manage phone calls
Storageaccess photos, media and files on your device
Cameratake pictures and record video
OVERVIEW
Version1.2.07.46 (2020.06.08)
Size25.23 MB
Age restriction 14+
ExpirationNo expiration date
Seller info
Seller : Samsung Electronics Co.,Ltd.
Corporate/rep. name : Samsung Electronics Co.,Ltd./Kinam Kim
View details
ebub**
I don't remember my phrase because I bought a new phone
dkat**
Too SIMPLE!!
tdin**
Setup should allow email or screen shot of generated phrases during account setup
stev**
App would have been much better if you just stuck to Bitcoin.
joel**
Don't slam Bc your crypto stupid !!!!!!!!
chan**
Great app!
andy**
This is a great wallet. Easy to use, only supports a few coins, but other than that it works flawlessly.
tyle**
Great Blockchain Wallet!
d.ne**
This is incredible! My only fear is committing to a Samsung software. They usually kill their apps a year later
taut**
There should always be an option to Uninstall software you don't USE or WANT. My latest update from Tmobile keeps activating the touchscreen vibrations every 3-5 minutes. Another forced update thats full of bugs. I will be switching to Motorola, Google or LG. Samsung is proving to be like apple; PROPRIETARY PIGS!!! I use to like Samsung because of its innovation and freedom to choose. But lately it seems that all they want is control... I'm DONE!!! I have 6 Samsung devices on my account and after the down grading of the functionality of the Note Series Line, I will be switching for free. They can keep there devices and their MONARCHIAL BULLSHIT...